Kalpar Castors to commemorate the milestone: Celebrates 25 years of Enabling mobility and fostering life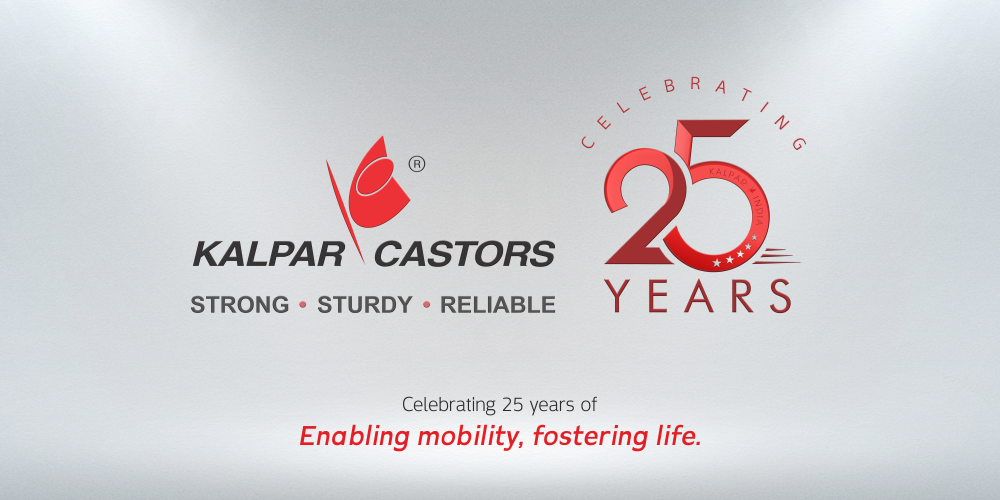 Kalpar Castors announces Silver Jubilee celebration, unveils a distinct logo to commemorate the occasion, continue reading to know more.
Nearly 6500 years ago, humankind encountered its most important invention of all time – THE WHEEL. Till date, it continues to power human aspiration for growth and development. Established in 1995 and founded on the core tenet of quality, Kalpar Castors furthers the contribution of the wheel to empower human life. Kalpar manufactures high calibre castors & wheels which add value to hundreds of products spread over scores of industrial segments – from medicare to automobile and from luggage to air cargo.
Since 25 years, Kalpar Castors is committed to creating products that surpass the expectations of engineers and innovators, thus facilitating newer developments. Today and every day, Kalpar Castors takes pride in moving the world towards progress and innovation. All of this is made possible by unwavering trust of our customers and unflinching conviction of our team. The '25 years celebration' logo is an expression of this meaningful journey.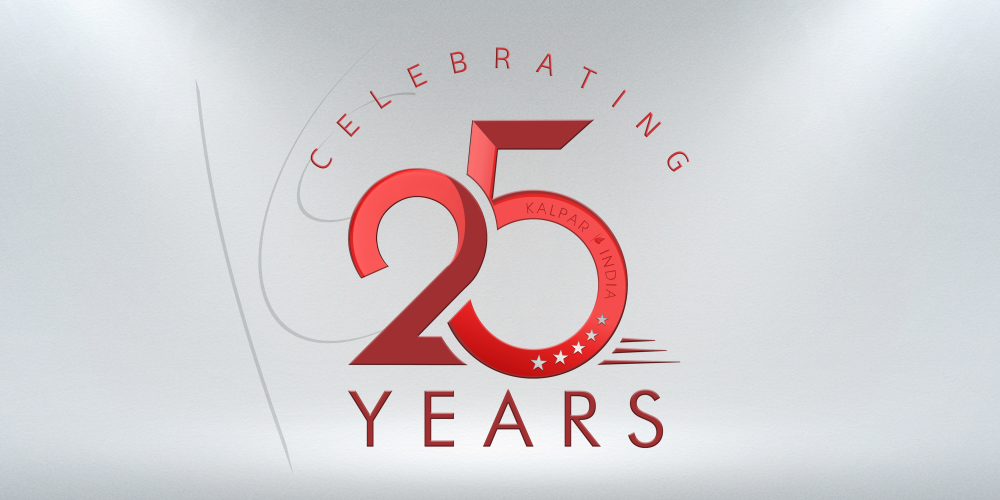 Kalpar turns 25: the logo.
By its very nature, the wheel fundamentally reduces friction between two objects. In other words, it enhances the results of human effort. For us at Kalpar Castors, the 'circular' shape of our products is a constant inspiration. It reminds us of the core function – the ease of movement – that our products need to possess. So, the digits are created from circles, representing circle and castors. The single red colour denotes the company's consistency and penchant for quality. The swooshes are a depiction of the three qualities of strong, sturdy and reliable – which continue to guide Kalpar Castors' manufacturing excellence. They also provide dynamism to the visual, stating this as a milestone in a continuous journey. The stars depict the 'Silver jubilee' celebration, and they symbolise Kalpar Castor's 5 principles of excellence namely – Purposefulness, Precision, Progressiveness, User comfort and Problem-solving ability.
Enabling mobility, fostering life.
Kalpar Castor's journey began in 1995 with two castor wheel designs in a small facility of less than 2000 sq.ft. Starting from this humble beginning, Kalpar today manufactures over 650+ types of castors, which are manufactured in two state-of-the-art facilities spread over nearly 50,000 sq.ft. Very early in its formative years, Kalpar witnessed the need for reliable mobility solution across industrial segments. Starting with the Textile industry, Kalpar focussed on making castor wheels that provide smooth and stoppage-free movement to material handling and sliver handling equipment. Success in this segment led Kalpar's team to look at diverse industries like refrigeration, luggage, electronics, retail, automotive and others. Each of this industry had its demands, and Kalpar progressively provided strong, sturdy and reliable mobility solutions to this and many other industries. Kalpar Castor's consistent value addition to OEM's equipment received a broad acceptance, in turn opening the doors towards critical and intensive industries like medicare and air-cargo. Kalpar has successfully contributed to the emerging needs of all these industries, provided proactive solutions which have fuelled their clients progress. Worth to mention is Kalpar's significant supply of castors for critical life-saving equipment like Ventilators during the global pandemic. All in all, Kalpar Castors, with its bouquet of high-quality products, add value to hundreds of equipment manufacturer's quest for the most reliable mobility solution.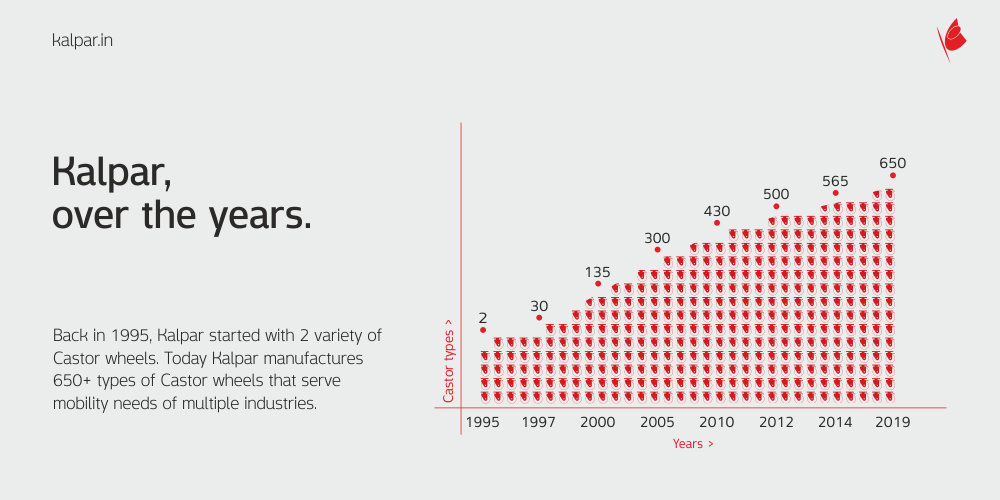 What lies ahead.
As much as the occasion is to celebrate past laurels, we take this opportune moment to announce the unfolding of a new era in mobility solutions. At Kalpar, we marvel at what the future holds and the gamut of possibilities that it throws open. The world, as always, is transforming, affecting the way we work and live, thus impacting our priorities. These have a bearing on the kind of machinery & types of equipment that the world will be using.
We wish to take a moment to express our gratitude for the trust and belief that our clients have in our capabilities. Our team members breathe by the company's principles of quality and excellence; it is their undying conviction that fuels the progress of Kalpar Castors. We deeply respect our relationships; it keeps us guided and motivated to achieve higher ideals.
Join us as we celebrate 25 years of Enabling Mobility and Fostering Life.