Castors and Wheels to meet the needs of diverse industries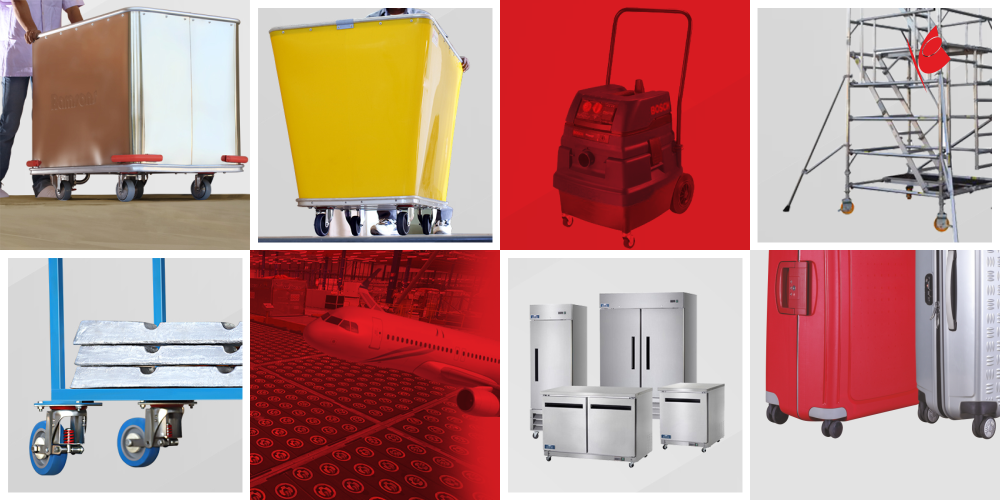 Maneuvarability is a critical value addition to any product. Most of the equipment today, belonging to either segment – industrial or consumer – needs high-quality castors to add the feature of mobility. Kalpar manufactures over 650+ types of castors and wheels to serve the needs of multiple industries. The company also manufactures castors and wheels as per custom specifications. Leading OEM's rely on castors and wheels from Kalpar to add value to their products.
Some factors that were luxury in yesteryears have now become a necessity. All industry management levels – be it design & development, administration, production, packaging & forwarding and delivery – require Time management, Convenience, Man-hour optimisation, stress-free work environment. Maneuverability is one factor that provides perfect assistance in achieving these goals. Castors are such a small product, but it has helped humanity to a great deal by providing manoeuvrability. Various industry segments trust Kalpar castors for their manoeuvrability needs.
Kalpar's Range of Castors & Wheels
The product range of Kalpar serves all the major industrial segments like Furniture, Luggage, Hospitals, Hotels, Institutions, Engineering, Material Handling, Textile, Air Cargo etc. Each of these industry has a unique load carrying capacity requirements, type of floor, wheel size, and wheel material specifications. Kalpar manufacturing capability comprises of the following range:
Wheel diameter: 16mm to 300mm
Wheel Material: Nylon, Rubber, Polyurethane, TPE, Cast Iron and Aluminium
Load Carrying capacity: up to 2500 kg
Types: 650+
Kalpar's range of castors & wheels is tested and proven under the rough track, patchy track, hazardous track and smooth tracks. This versatility is the reason Kalpar enjoys the trust of leading OEM's across industrial segments.
Maneuver with confidence
Kalpar's ongoing effort is to provide a better work environment for the industry and add more value to its products or services. Quality of maneuverability has a direct impact on the user's experience and comfort. This significance makes choosing castors an essential facet for OEM's. Durability is also of importance to reduce the need for product break-down and service needs. Kalpar's engineering expertise, coupled with a quality monitoring mechanism, ensures the delivery of the best quality product.
View the complete range of Kalpar Castors here
You can also get in touch with us for any information and guidance on castor selection. Write to: enquiry@kalpar.in