Castors & Wheels for Hospital & Medi-care segment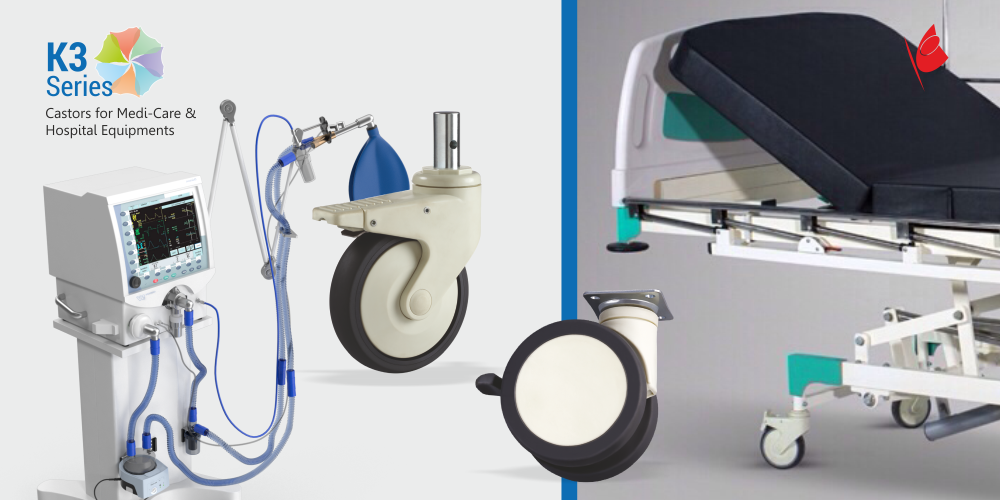 In a challenging year hit by the COVID19 pandemic, the health care sector has been in forefront. Kalpar Castors manufacturing excellence helped them to succefully cater to the urgent needs of critical care equipment like ventilators and other Medical mobility solutions
Kalpar Castors and wheels are among the most reliable castors for various Medi-Care and Hospital applications like Patient Transfer, Ward Care, Medical Mobility, Bed Solutions, OT & ICU solutions and much more. Diverse range, World-Class quality, Optimum Strength and Life-Long Reliability is what makes Kalpar a perfect partner for every Medi-Care application. Exceptional quality, intelligent design and efficient rolling resistance management make Kalpar Castors a sought after supplier for the critical Medicare segment. Kalpar Castors will run on and on and on.
Kalpar Castors – Trusted by OEM's of Medicare segment
Medi-Care applications demand very high-quality products. Kalpar produces a range of wheels & castors to meet the diverse medicare needs. Kalpar offers an extensive range of swivel and fixed castors ranging from 50 to 150 kgs bearing capacity. Kalpar's manufacturing facility is built to be dynamic – to match up to the Medi-Care segment's constantly evolving needs. This capability imparts Kalpar capabilities to customise every customer need and produce castors and wheels to serve the bespoke requirement of any scale and scope. Kalpar's experts' team is always eager to guide the customer in creating the most optimum specification for a particular need. Kalpar offers customisation on Castors' key variables – Finish, Load capacity, Wheel Diameter and Mounting. Kalpar wheels & castors are capable of withstanding the challenges of load, weather and environment. Kalpar shares healthy working relationships with various leading OEM's of this segment.
Full-proof product testing process
The most critical need of a Medi-Care component is reliability; Castor quality has a considerable bearing on this feature. At Kalpar, every part has to pass through a globally accepted manufacturing and testing process. The process is oriented to enhance product efficiency that leads to patient comfort.
With 25 years of experience, Kalpar produces castors that provide reliable results for sensitive medicare applications.
Discover the entire range of Medi-care castors here
You can also get in touch with us for any information and guidance on castor selection. write to enquiry@kalpar.in