Uses of Heavy-Duty Castors and Wheels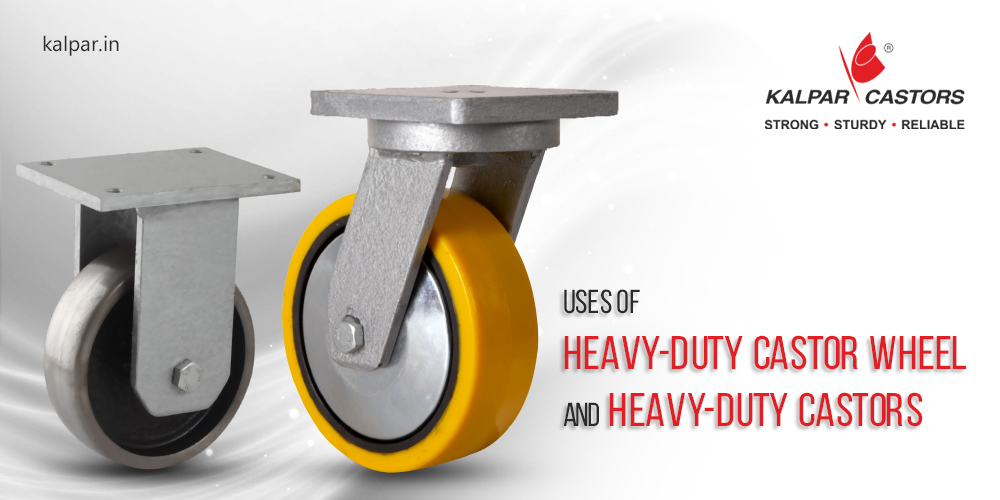 Heavy-duty castors and wheels are used in manufacturing plants, warehouses, industrial units and similar facilities where Heavy Load Trolleys and Machines require mobility. Heavy-duty Castors helps in the efficient management of material handling equipment in manufacturing and industrial facilities. Different grades of castors support different amounts of weight. Load Capacity is one of the key variables while selecting the castor and its handle loads from 200 to 1200 kgs. and more.
Users should note that if light duty or medium heavy duty castors are used for heavy load applications, it can cause damage to goods and lead to a stoppage in operations due to malfunction. For heavy load applications, users should always ask for Heavy duty castors, that are specifically made for moving loads heavier than 200 kgs.
The Benefits of Heavy Duty Castor Wheels by Kalpar
Makes material movement easy and efficient
Eases the labour efforts in material movement, loading and unloading of goods
In many industries, Heavy-Duty castors help in moving assemblies and heavy parts from one location to another.
Heavy-Duty Casters are essential for dollies and Platform Trucks
Heavy-duty casters manufactured by Kalpar can handle loads from 200 to 1200 kgs. Kalpar Castors are highly versatile in terms of their styles, materials and functionality. to meet the needs of various industries. Each type of castor is available in different wheel diameters and specifications. We have a large inventory of heavy-duty castors, it includes:
Polyurethane (PU) Wheel Castors
Nylon Wheel Castors
Cast iron Wheel casters
Kalpar Castor's range of heavy duty castor works well on the hard and soft floor and they come with high-quality ball bearings that further improve movement. OEMs who require customised heavy duty castor can also contact Kalpar, our in-house manufacturing capability can handle
Castors are integral to smooth and stoppage free movement in industries. For the best quality heavy duty castors, that are strong, sturdy and reliable, get in touch with Kalpar Castors.
Write to us at enquiry@kalpar.in