Speciality Dual Wheel Castors for top Maneuverability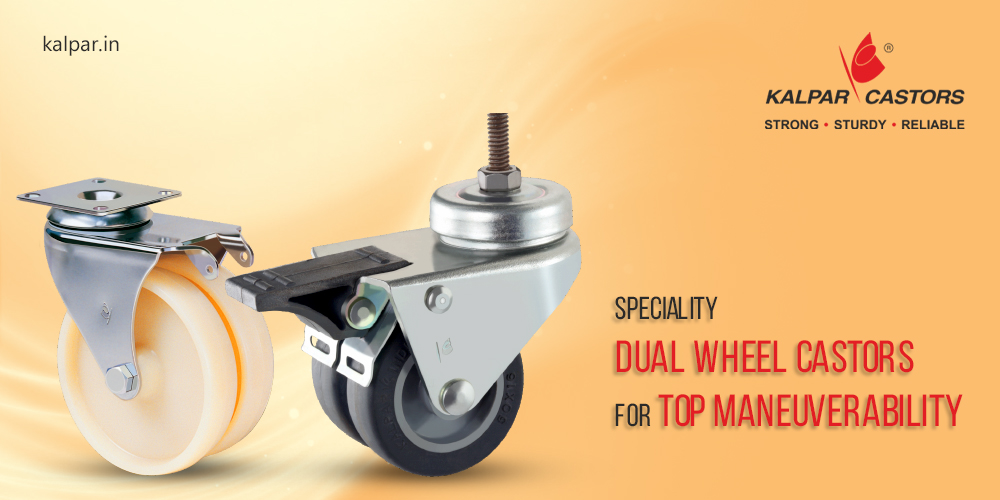 "I am using the best quality of castors for my equipment, but I desire even better maneuverability."
If you are eagerly looking to solve the above need, then Kalpar's Speciality Dual Wheel Castor is the answer. It is a well-accepted fact that two castor wheels are better than one, for efficiency in maneuverability.
Why Dual Wheel Casters are Superior to Single Wheel Casters
Better Turning Capability: While turning, a Single Wheel Castor has to pivot centrally, on the other hand, a dual-wheel castor enables smooth rolling of the castor-mounted equipment.
Efficient movement: While moving heavier loads, with single wheel castors, the effort and strain on the back of the human resource are more as compared to the dual wheel castors.
Reduced shop-floor maintainance: Dual wheel castors have a reduced impact on the floor because their ability to move heavy loads and turning ability is better than single wheel castors.
If you are looking to buy casters that will not only help you move the goods but help in better management of strain and effort then you can try Kalpar's speciality Dual Wheel castors. Kalpar's Speciality Dual Wheel range can carry 75-160 kgs of load and is available in both the TPE Castor (Thermo Plastic Elastomer) and Nylon Castor options. These are available in different sizes to suit various applications. These dual wheel castors from Kalpar helps in the even distribution of load. The Dual wheel castors manufactured by Kalpar are ideally suited for Ligh load trolleys, Machines, server racks, IT equipment, Electronic equipment etc.
Write to us at enquiry@kalpar.in